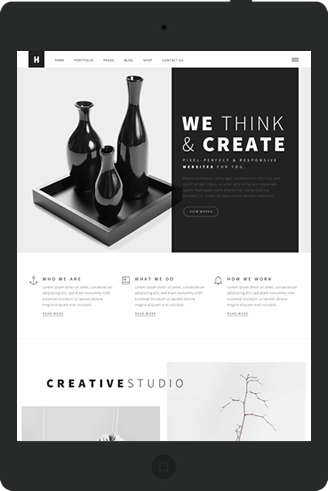 WORDPRESS WEBSITE DESIGN
Whether you are just starting your side hustle, have an existing business and need to grow your online exposure, or are crushing it and ready to scale to the enterprise level, we have a WordPress Web Design solution to suit your needs.
We love design, but we begin everything with the end in mind so we always start by taking the time to discuss your business needs and goals in detail and arrive at an overall digital strategy. This conversation and strategy drives our entire process as we tie all decisions back to your unique goals.
We then will ask about Websites you like (and don't like) and begin designing a solution that is not only beautiful and responsive, but also intuitive and scalable.
During this time we also define competitors in your space, audit your digital assets, and discuss content strategy and search engine optimization (SEO) approaches.
Once design is complete and content is implemented, we send you a link to review and approve or make edits. We then test (and test again). We finally launch your website and alert Google to its existence. You go on to world domination and we look on like the proud supporters that we are…
Finally, we set up time to train you or your key staff so that you can update your new Website. Can't stand updating Websites? We are not offended. Ask about our WordPress website monthly maintenance and security service where we will not only keep your site safe, but we will do all the updates for you. It's like having your own in-house Web team.
Please note that we do not work in SquareSpace, Wix, Weebly or other similar platforms. We exclusively build Websites using WordPress.
WordPress powers 43% of all Websites and has been the fastest growing content management system (CMS) for 12 years in a row (source: W3Techs; 2022). This adoption, along with WordPress's overall approachability, portability, scalability, budget-friendliness, and compatibility with some of the best rated SEO, CRM, e-commerce, and analytics plugins available makes WordPress a no-brainer for the vast majority of our clients. We run our own Websites on WordPress and we volunteer our time teaching WordPress to nonprofits and students whenever possible.